farm | restaurant | hotel
Life at the Cacao Farm is a unique experience that is deeply detoxifying and rejuvenating.
The Food
Insanely nutrient-dense meals inspired by Weston A. Price and the native foods movement served three times per day (organ meat, 12 hour bone broth and kefir served with every meal). 90% of the ingredients come from our mineral rich soils free of imported chemicals.
A City Detox
A few days or a week away from electromagnetic radiation, social media, city noise and air pollution is a surprisingly wonderful experience (we have purposefully limited internet to one public room.) There are no attractions out here in rural Nicaragua. Life at the Cacao Farm entails connecting with people, catching up on sleep and reading, and walking along our 1.5 mile trail to see the food we're growing for you to eat and the rainforest we're nursing back to health.
Featured Guest
From time to time we have featured guests onsite giving daily 'ted talks' about their field of expertise. Check our calendar to see if there is anyone you'd like to see onsite or rent the whole property for you and your friends.
Our hotel is powered by the Nica power grid, which is generally reliable, but does go down for a few hours once or twice each month. Once we have achieved our goal of producing 100% of the restaurants food from the farm, our efforts will focus on producing all of our power onsite from renewable sources.
Our hotel is comprised of six (6) rooms, four (4) with full private bathrooms and AC and two (2) with just a room and shared bathroom.
We have custom built each piece of furniture onsite from locally sourced wood. We have taken great care to layout each rooms' tile patterns and roof shapes to complement and enhance the experience of the room (a practice that has been generally lost for a few hundred years).
About our Restaurant
Like everything on the property we go to 'ludicrous mode' in pursuit of nutritional density and ingredient purity.
We are thoroughly inspired by the native foods movement and Dr. Weston A. Price's work. Which means we process all ingredients from the farm using fermentation, drying, soaking, and sprouting to maximize the nutrition and digestibility of the ingredients.
We serve Breakfast, Lunch and Dinner daily in our communal dining room.
We don't have a menu, we produce what is available and in season from the farm.
We focus on basic meals with insanely good ingredients.
Each meal starts with a small cup of bone broth from a farm animal and vegetables and ends with a small cup of kefir.
Breakfast is often eggs, a side of cheese, beans, juice and tea. However, the black pepper you grind into your eggs was hand picked and sun dried days before, the beans were soaked, the juice made from our fruit was sweated from honey produced on the farm, the tea
was made from sun dried mint leaves or turmeric from the farm, the cheese was made from the milk of our own cows and the beans were grown in our mineral rich soil.
Lunch and dinner are generally chicken, pork, or beef with refried beans and salad with soup as an appetizer. However, a simple carrot and cucumber salad may have a vinaigrette made from vinegar we fermented from our bananas (no apple cider vinegar in the tropics).
We believe in organ meat as much as we believe in fermenting ingredients and mineral rich soil. We make a 'brain soup', refried beans with organs, heart steaks and other dishes to ensure we have the nutrients from the whole animals in our meals.
All of our drinks are made onsite from farm ingredients: you can choose from filtered water from the artesian well on our farm, ginger/turmeric/mint tea, juice, fermented sodas, alcoholic beers and wines and a dessert wine made from the berries of the native Nancite tree that grows on our farm.
Nuts, seeds and fruit are available for snacking when they are in season.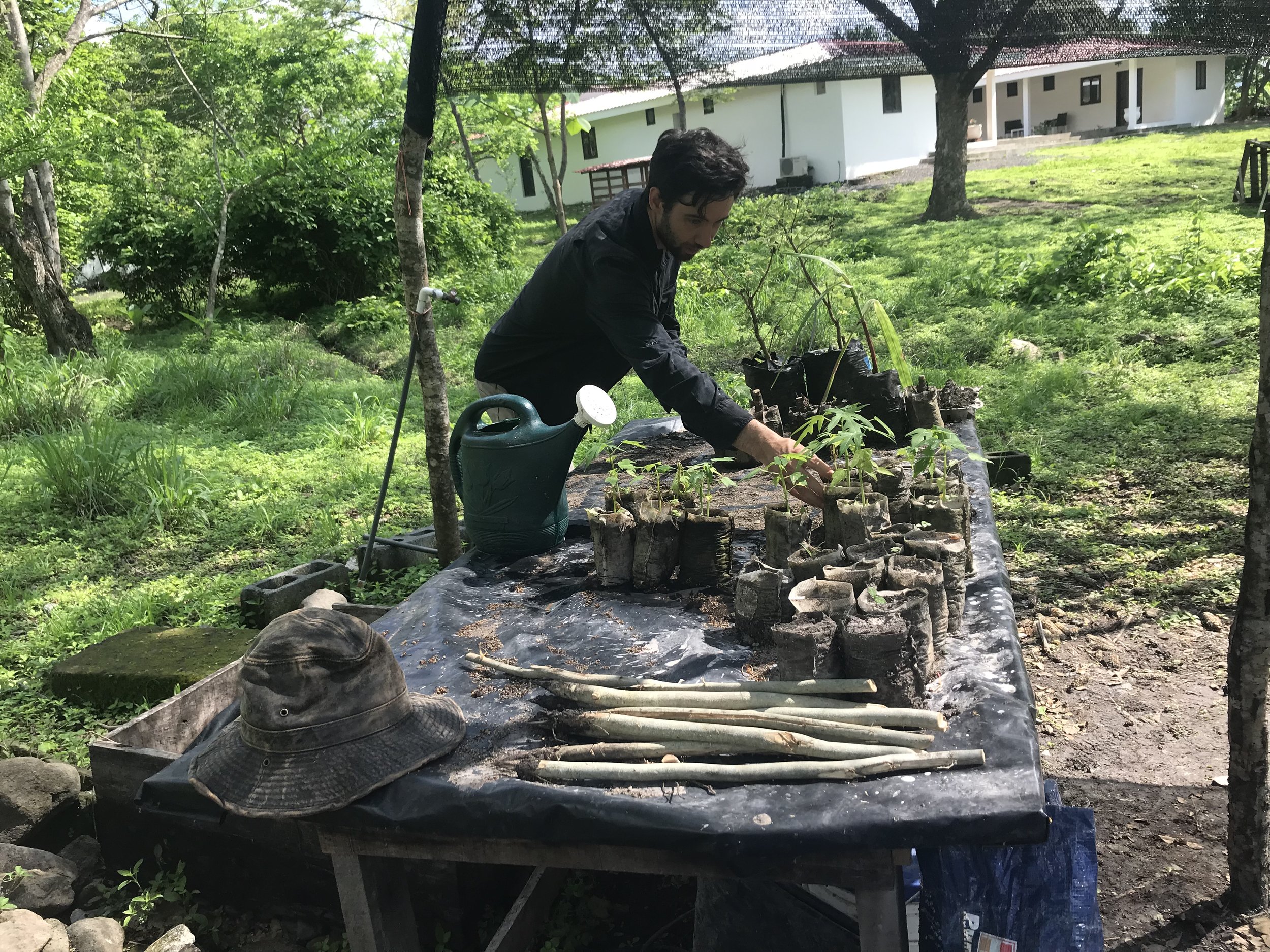 On about 6 acres we produce 90% of the food needed to feed 10 guests, which includes a pasture for dairy cows, rotational paddocks for pigs, free range chickens, a vegetable garden, a food forest for perennial fruits and nuts and a larger garden for corn, beans and sugar cane.
Not all food is created equal! The nutrients contained in any food depends on the fertility of the soil it was grown in; our goal on the farm is to create the most mineral rich soil, so we can produce food with the highest nutrient density possible - without using chemicals or imported soil amendments.
Our meal preparation begins on the farm. The farming begins in our nursery, where we brew and ferment bacteria and fungus cultures that we apply to the farm's soils as these organisms are the ultimate machines capable of creating and unlocking the mineral potential of the soil in the most optimal form for roots. In the nursery, we soak and sprout the corn we feed to our chickens and make clabbered milk from our cows and feed it to our pigs and chickens. We also brew 'teas' from various native plants and use them as natural insecticides for our plants.
The food produced on the farm goes to the kitchen for fermentation or other nutrient enhancing processes (inspired by Weston A. Price).
Our region had its native rainforest clear cut in the 1980s. Exposing the soil to sun increased temperatures, dried out the soil, and the resulting sun-baked soil allowed much more water to run off the land and into the rivers and then the ocean, rather than soaking into the soil. This has had a 'desertification' effect on the land, lowered water tables, and driven down fertility. We have replanted the majority of the farm with native rain forest trees and created water retention dams and swales to slow erosion and add to our aquifer until the trees and roots develop. We intensively grow the food without chemicals and we use less than 12% of the farm to do it.
We will save the details for now, but anyone interested in this kind of land stewardship and food production is welcome to tour the farm, talk with the farmers and help out if your looking for hands on experience.
Scenes from the cacao farm
want to learn more?
Check the details at the link below.